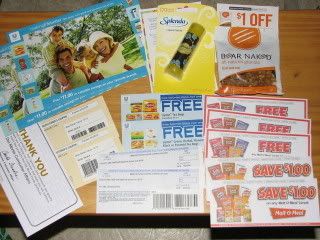 So, this weekend was a great one for mail- no bills, just coupons and samples!  Many of these coupons I received from companies just for letting them know how much I enjoy their products.
Here's the breakdown
3 Free Bag of any Malt-o-Meal cereal bags (sent email about loving their cereal but that the "resealable" bag isn't so reseable)
2 $1.00 off any Malt-o-Meal cereal bags (I think I signed up for these on their website)
2 Free box Lipton Tea bags (sent compliment email)
2 Free box Bagel-fuls (called with comment and suggestion from kids)
2 coupon booklets from Unilever (one for contacting Ragu, not sure about the other)
2 75¢/ 2 Starkist Tuna pouches (sent compliment email)
Bear Naked granola sample and $1.00 coupon (requested here
Splenda liquid spray (sample on facebook- no longer available)
Also received but not in picture is the free Lego Club Magazine, requested
here
. The boys snagged that thing so fast, no chance of it making it into the picture!